Requirements for

a gasket are:
Our

Certificate

ISO 9001
About our

Profile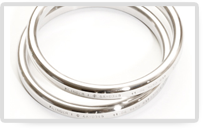 NEOSEAL ENGINNEERING PRIVATE LIMITED managed by two young lads who has accumulated many tools to make gaskets in India with a brand name of "NEO". We are a professional manufacturer of various kinds of sealing and packing material, equipped with rich experienced, highly skilled and fully qualified engineers and staffs. Relying on advanced management system, superior testing instrument & facility and first-class technology, all our (NEO) series sealing products are extensively applied in those industrial departments, such as petroleum, chemical industry, electric power, metallurgy, machinery, automobile, shipping building, pharmacy, aerospace industry, nuclear industry, etc. In many cases we were actively involved in the development of gaskets & seals for specific equipment.
The industrial gaskets we manufacture include non-standard pipe flange gaskets and unique shapes for use in many applications, for example:
Heat  Exchanges
Aerospace Industry
Automotive Industry
Electrical insulators
Industrial Gaskets
Locomotive Gaskets
Hi-tech Gaskets
In addition we supply:
Flanges and Pipe fittings
Fasteners
Valves
NEOSEAL keenly supports and offer its expertise with many years of experience to the gaskets industry in India along with the same , it assists its customers develop their products and have the production capacity to produce prototypes relatively inexpensively and the capacity to easily convert the knowledge so gained into production tools.