Requirements for

a gasket are:
Our

Certificate

ISO 9001
Flanges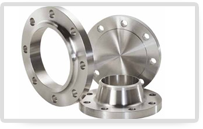 We are engaged in importing and supplying a wide range of Flanges that is available in variables sizes for different applications in waterworks, petrochemicals, refineries, chemical industry and construction works. Owing to its high quality, optimum performance, less maintenance, our range of flanges is appreciated by our clients and is available in material configurations of stainless steel, carbon steel, alloy steel, nickel alloys and copper alloys. Based on the sizes, dimensions, shapes and length of these flanges, we can customize the products for our respected clients.
Forms of Flanges:
Our range of flanges include PN Flange, Plate Blank Flanges, Screwed Bars Flange, Spectacle Flanges, Blind Flanges, Lapped Flange, Reducing Flange, Welded Flange, Socketweld Flange, SORF Flange, Threded Flange, Spectable Flange and many more. Nickel & Copper Alloy Flanges
We bring forth a comprehensive range of high standard nickel and copper alloy flanges, that are catering to the demands of different industries. These flanges have gained high appreciation for their dimensionally accurate and corrosion resistant features. Fabricated from industry grade materials, all these flanges are ideal for high temperature & pressure applications. We welcome bulk orders and are capable of fulfilling them within stipulated time frame.
Nickel Alloy:
ASTM / ASME SB 564 UNS 2200 ( NICKEL 200 ), UNS 4400 (MONEL 400 ), UNS 8825 INCONEL (825), UNS 6600 (INCONEL 600 ), UNS 6601 ( INCONEL 601 ), UNS 6625 (INCONEL 625), UNS 10276 ( HASTELLOY C 276 ),ASTM / ASME SB 160 UNS 2201 (NICKEL 201 )ASTM / ASME SB 472 UNS 8020 ( ALLOY 20 / 20 CB 3 )
Copper Alloy:
ASTM / ASME SB 61 UNS NO. C 92200 & ASTM / ASME SB 62 UNS NO. C 83600. ASTM / ASME SB 151 UNS NO. 70600, 71500, C 70600 ( CU -NI- 90/10), C 71500 ( CU -NI- 70/30)ASTM / ASME SB 152 UNS NO C 10100, C 10200, C 10300, C 10800, C 12000, C 12200.
Stainless & Duplex Steel Flanges
Backed by a team of experts, we are supplying stainless steel and duplex steel flanges. In order to ensure quality, we follow international standards of quality and safety to manufacture these flanges. Use of qualitative material provides them spectacular durability and excellent strength. Our collection of flanges is resistant to corrosion and are available in different dimensions and configurations to suit the need of our esteemed clients.
Stainless Steel:
ASTM / ASME SA 182 F 304, 304L, 304H, 309H, 310H, 316, 316H, 316L, 316 LN, 317, 317L, 321, 321H, 347, 347 H.
Duplex Steel:
ASTM / ASME SA 182 F 44, F 45, F51, F 53, F 55, F 60, F 61.
Carbon & Alloy Steel Flanges
Professional manufactures of flanges that are made with carbon and alloy steel, we bring forth for our customers precisely engineered array of flanges that lies in tune with the accepted standards of the industry. Our flanges are widely used due to their features such as durability, precise construction, flawless finish, high tensile strength and performance. These flanges are available at industry's leading rates which is another important feature exhibited by our products range.
Carbon Steel:
ASTM / ASME A 105., ASTM / ASME A 350 LF 2.
Alloy Steel:
ASTM / ASME A 182 GR F 5, F 9, F 11, F 12, F 22, F 91.
Carbon Steel / Low Temprature Flanges
Choose from a wide range of Carbon Steel and Low Temprature(LF2) Flanges, which have carved a niche in domestic as well as overseas market. Reliable quality and superb functionality make our flanges most sought after amongst our clients. We offer our range in a medley of standard as well as customized sizes and dimensions to maximize the customer satisfaction. We offer these flanges at most reasonable rates.
Grade:
SA-105, IS 2062 Gr. A/B, 515/516 Gr.60/70, SA 350 LF2/LF3 SIZE: 1/2" TO 56"
PRESSURE:
150#, 300#, 600#, 900#, 1500#, 2500#