Requirements for

a gasket are:
Our

Certificate

ISO 9001
Metallic & Semi-Metallic

Gaskets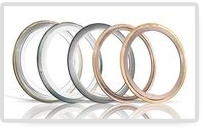 Metallic and semi-metallic gaskets include gaskets of the spiral wound, camprofile, metal jacketed and corrugated semi-metallic types. These gasket types are usually used in very demanding conditions, which require the gasket to withstand high pressures or temperatures, or exposure to chemicals.
Semi-metallic and metallic gaskets for higher temperature and higher pressure applications. NEOSEAL offers a comprehensive range of metallic and semi-metallic gaskets.