Requirements for

a gasket are:
Our

Certificate

ISO 9001
Kammprofile (grooved)

Gaskets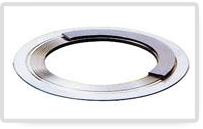 A semi-metallic gasket system, which consist of: centering (outer) ring made of special steel cam-profiled (sealing) ring made of special steel soft covering layer made of graphite, ptfe, ..
Typical applications:
pipelines, heat exchanger.
The soft cover adapts flange surfaces with ra < 6, 3
The soft covering layer (in most of the cases expanded graphite), is trapped in the tread and can not be extruded into the gap.
The trapped graphite provides good compressibility and resilience.
The cam profiled ring can be re-used again several times.
A good quality Kammprofile gasket can be very expensive.
Soft cover cam-profiled sealing ring outer ring.
| | | |
| --- | --- | --- |
| Profile shapes | : | Parallel (m18l, m20l, m21lm), or convex (m38l, m40l, m41lm). |
| Standard material of core | : | Carbon steel, ss 316l, ss 304, ss 321; other materials are on |